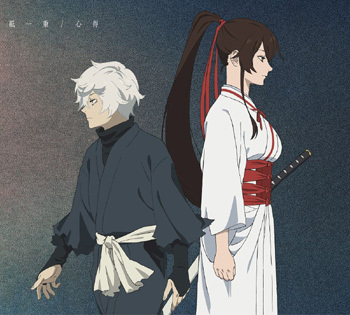 Uru - Kami Hitoe english Lyrics
Anime「Hell's Paradise (Jigokuraku)」Ending
Release: 2023.04.15
Lyricist: Uru
Composer: Uru
Arranger: Tomi Yo
AKA: 紙一重
---
Uru - Kami Hitoe download
---
---
▶
CDJapan
---
Uru - Kami Hitoe Lyrics (translation)
---
Paper Thin
I tried to carefully stack them on top of each other
But some parts still stuck out
So I tore off their edges
But you said they were perfectly fine as they were
Gathering the scattered pieces and putting them back together
You fixed them
Our hearts are paper thin
They look like they'll connect, but they can't, can they?
That's exactly why I want to stay close to you like this right now
I want to feel your heart
Day after day, waiting for a new dawn
Yearning for a transient dream
As you continue to think of someone, even today
The wish you hold deep in your heart, you'll keep chasing after it, won't you?
May your voice reach them one day
If I could become stronger and stronger
Deep inside my heart, I've always, always wanted to change
I wonder what I can do for you, being the way I am now
They looked like they would break at the slightest touch
Those clear eyes, I saw loneliness inside them
The wrinkles in your clothes, made by your grip on them
Conveyed that cry
Day after day
To struggle in spite of hesitation
Having the strength to fight back sometimes
You taught me those things, didn't you?
The light and darkness I came to know in the days our hearts were stacked on top of each other
Continue to live inside this heart
No matter how many times you were hurt
The love you continued to protect
May it envelop you one day
---
TV anime『Hell's Paradise』ending theme│「Kami Hitoe」 Uru
---