キミトミタイセカイ [CD+DVD+GOODS/初回限定盤 A] / 関ジャニ∞
Kimi to Mitai Sekai [CD+DVD+GOODS / Limited Edition / Type A] / Kanjani8
Title:
Kanjani8 - Kimi to Mitai Sekai (45th single!)[Limited Edition/Type A]
Album: Kimi to Mitai Sekai - 45th single!
Catalog Number: JACA-5876
Release Date: February 10, 2021
Publish Format: Commercial
Release Price: 2200 JPY
Media Format: CD + DVD
Classification: Vocal
Label: -
Distributor: -
Arranged by: -
Performed by: Kanjani8
Composed by: -
---
Kanjani8 to release the 45th single! The title song is featured as the main theme song for the TV drama series "Shitteru Wife" starring Tadayoshi Okura.
This edition includes a bonus DVD with a music video for the title song and its alternate version as well as making-of. Comes with "Seishun Hard Puncher."
Features jacket with a special feature (Aurora Reflection), which glows in aurora colors when photographed with a smartphone or other device with a flash function, and the way it glows changes depending on the angle and lighting (system requirements unknown).
▶
Description in Japanese
---
キミトミタイセカイ [CD+DVD+GOODS/初回限定盤 A] / 関ジャニ∞
関ジャニ∞の45枚目となるシングル「キミトミタイセカイ」は、メンバー大倉が主演を務めるフジテレビ系木曜劇場『知ってるワイフ』主題歌(1月7日22時~初回放送)。このドラマは、恐妻との結婚生活を憂いながら、「あの頃に戻って人生をやり直したい!」と日々嘆く恐妻家の主人公が、ある日突然過去にタイムスリップし、妻が入れ替わってしまうところから始まる物語。"自分にとって大切な人とはどんな人なのか?" "誰かと人生を生きていくとはどういうことなのか?"といった、夫婦としての普遍的なテーマを描いた、ファンタジックなハートフルラブストーリー。そんなドラマの世界観を反映させた今作は、関ジャニ∞の新ステージになるラブバラード。この楽曲の為に、ボイストレーニングやプリプロダクションなどを行い、新境地のボーカル・楽曲に仕上がった。 【初回限定盤A】には、特典映像として「キミトミタイセカイ」Music Clip & ソロアングル、また「キミトミタイセカイ」レコーディングやPV歌唱シーンを収録したドキュメントDVDが付属。カップリングには、出会いや別れの季節に似合う関ジャニ∞らしい応援歌「青春ハードパンチャー」を収録。そして、「キミトミタイセカイ」の世界観を彩るジャケットは、"オーロラリフレクションジャケット仕様 (モーニングオーロラver.)"となっており、アパレルなどで人気の特許技術"LIGHT FORCE(R)オーロラリフレクター"を世界で初めて紙への印刷で実現。スマートフォンなどで[フラッシュ機能あり]の撮影をするとジャケットがオーロラ色に光り、角度やライティングによっても光り方が変わるので何度も楽しめるジャケットとなった。(お使いの機種によっては効果を最大限に得られない場合がございます) また、豪華特典として、ジャケット同様、フラッシュ撮影すると"クチビルくん"ロゴがオーロラの様に光る「関ジャニ∞オーロラリフレクションマスク」封入。 ※今作のシングルも「関ジャニ∞アプリ」に対応! (CD収録曲、「キミトミタイセカイ」 Music Clip & ソロアングルなどの様々な特典映像、ブックレットまで、ご購入頂いた商品と同内容が全てスマホやタブレットでお楽しみ頂けます!/有効期限: 2022年2月10日(木)まで) ※ジャケットのビジュアルは、3形態で異なります。
▶ Download
---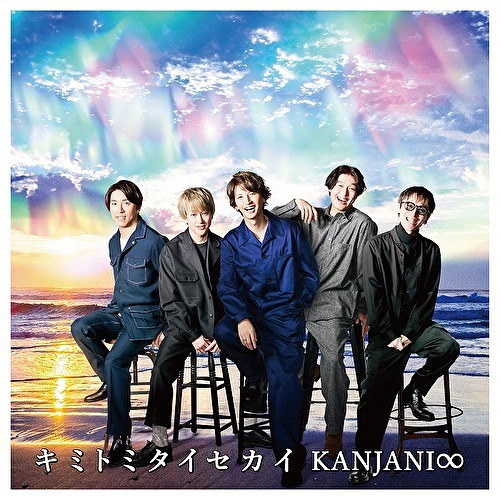 1 キミトミタイセカイ
2 青春ハードパンチャー
1 [DVD] 「キミトミタイセカイ」Music Clip & Solo Angle、Vocal Document
---