Saji - アルカシア 歌詞
Title:
Saji - Arcacia Lyrics「TV Anime "Kai Byoui Ramune" ED」
TVアニメ「怪病医ラムネ」ED
TV Anime「Kai Byoui Ramune」ED
▶ Anime Information
---
Alternative Titles
Synonyms: Dr. Stone 2nd Season, Dr. Stone Second Season
Japanese: ドクターストーン STONE WARS
Information
Type: TV
Episodes: Unknown
Status: Not yet aired
Aired: Jan 14, 2021 to ?
Premiered: Winter 2021
Broadcast: Thursdays at 22:30 (JST)
Producers: Shueisha
Licensors: None found, add some
Studios: TMS Entertainment
Source: Manga
Genres: Sci-Fi, Adventure, Shounen
Duration: Unknown
Rating: PG-13 - Teens 13 or older
---
As long as hearts exist inside people, there will always be those who suffer. And then something "strange" enters their mind and causes a strange disease to manifest itself in the body. The illness, which is called a "mystery disease" is unknown to most, but certainly exists. There is a doctor and apprentice who fights the disease, which modern medicine cannot cure.
His name is Ramune. He acts freely all the time, is foul-mouthed, and doesn't even look like a doctor! However, once he is confronted with the mysterious disease, he is able to quickly uncover the root cause of his patients' deep-seated distress and cure them. And beyond that...
(Source: Crunchyroll)
---
💊このあと20:00〜💊

「怪病医ラムネ」第一話先行上映&スペシャルトークにて、エンディングテーマに起用頂いたsaji「アルカシア」のアニメサイズが初解禁!!

番組内でsajiの最新情報のお知らせもありますのでぜひご覧下さい🦉#saji #アルカシア#怪病医ラムネ https://t.co/qum2ARYsgO

— saji (@saji_official) December 18, 2020
---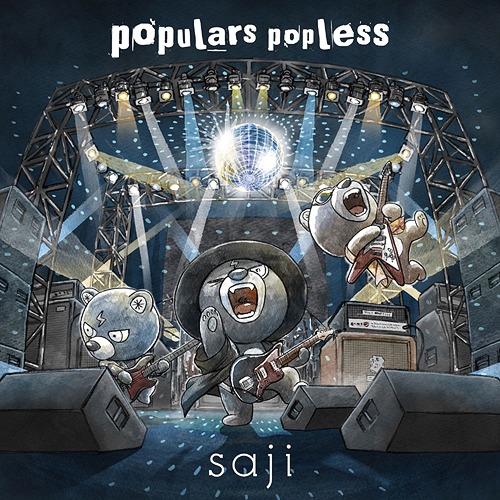 1 After School Party!!
2 Yummy!! Yummy!!
3 ツバサ
4 僕らの秘密基地
5 なんてさ。
6 クラスメート -Album ver.-
7 アルカシア
8 瞬間ドラマチック
9 Maybe It's In Your genes
10 CHANGE UPPER
11 雨と踊る
12 明日の空へ -Album ver.-
---
【LYRICS】
愛を詠うよ
君のために
迎えに行こう
あの日の僕らを
やっと、逢えた
愛しい人
どうか醒めないように
消せない傷痕-きず-
誰だってあるよ
それが、些細な理由
だったとしても
想いはいつも
心の中で
小さく震えていたんだ
君は憶えてないかも
しれないけれど、
独りだった僕に
居場所をくれた
「一緒に帰ろう」
その一言に
どれほど僕は
救われてきたのだろう
言葉はいつも
不器用だから
想いはきっと
伝わらないけど
いつか、君が
迷った時は
僕が支えるから
話したいこと
たくさんあるよ
それが些細な
出来事だとしても
君と過ごしていく
この時間-とき- が ほら、
今日を生きる理由になるよ
朝は希望を
昼は未来を
夜は二人で
明日を夢見よう
どうか君よ
変わらぬままで
どうか、其の儘の君で
繋いだ手と手は
どれだけの時間を共にすれば
二度と離れることのない
一つの命になれるのだろうか
言葉はいつも
不器用だから
想いはきっと
伝わらないけど
いつか、君が
迷った時は 僕が
愛を詠うよ
君のために
迎えに行こう
あの日の僕らを
どうか、君よ
愛しい人よ
夢が醒めないように
なんて、言ってみただけ
ai wo utau yo
kimi no tame ni
mukae ni yukou
ano hi no bokura wo
yatto, aeta
itoshii hito
douka samenai you ni
kesenai kizu
dare da tte aru yo
sore ga, sasai na riyuu
datta to shitemo
omoi wa itsumo
kokoro no naka de
chiisaku furueteitan da
kimi wa oboetenai kamo
shirenai keredo,
hitori datta boku ni
ibasho wo kureta
"issho ni kaerou"
sono hitokoto ni
dore hodo boku wa
sukuwarete kita no darou
kotoba wa itsumo
bukiyou dakara
omoi wa kitto
tsutawaranai kedo
itsuka, kimi ga
mayotta toki wa
boku ga sasaeru kara
hanashitai koto
takusan aru yo
sore ga sasai na
dekigoto da to shitemo
kimi to sugoshite iku
kono toki ga hora,
kyou wo ikiru riyuu ni naru yo
asa wa kibou wo
hiru wa mirai wo
yoru wa futari de
asu wo yumemiyou
douka kimi yo
kawaranu mama de
douka, sono mama no kimi de
tsunaida te to te wa
dore dake no jikan wo tomo ni sureba
nido to hanareru koto no nai
hitotsu no inochi ni nareru no darou ka
kotoba wa itsumo
bukiyou dakara
omoi wa kitto
tsutawaranai kedo
itsuka, kimi ga
mayotta toki wa boku ga
ai wo utau yo
kimi no tame ni
mukae ni yukou
ano hi no bokura wo
douka, kimi yo
itoshii hito yo
yume ga samenai you ni
nante, itte mita dake
---
➥Source