Tough Heart / Aika Kobayashi
Tough Heart / 小林愛香
Title: Aika Kobayashi - Tough Heart (2nd Single)
Album: Tough Heart - 2nd Single
Catalog Number: TFCC-89696
Barcode: 4988061896960
Release Date: Jan 27, 2021
Publish Format: Commercial
Release Price: 1430 JPY
Media Format: CD
Classification: Vocal
Label: TOY'S FACTORY
Manufacturer: TOY'S FACTORY INC.
Distributor: VAP Inc.
Composer: Q-MHz
Arranger: Q-MHz (Tomokazu Tashiro)
Performer: Aika Kobayashi
TVアニメ「真・中華一番!」OP
TV Anime「Shin Chuuka Ichiban!」OP
▶ Description
---
The second single of popular voice artist/singer Aika Kobayashi. Continuing from her debut single "NO LIFE CODE", Mr. Tomokazu Tashiro of Q-MHz is in charge of total production of this single. The title song "Tough Heart" is an ambitious work which all 4 members of Q-MHz came up with an idea and completed it with all their efforts. In addition to the title track "Tough Heart", it will contain 6 songs including 2 new songs and their instrumentals.
---
Tough Heart [通常盤] / 小林愛香
人気声優/歌手の小林愛香セカンドシングル。今作もデビューシングル「NO LIFE CODE」に引き続き、トータルプロデュースをQ-MHz 田代智一氏が担当。表題曲「Tough Heart」は Q-MHz 4人全員がアイデアを出し、総力をかけて完成させた意欲作。 彼女の武器である熱い歌声を最大限に生かした力強い1曲となり、「NO LIFE CODE」から読み取れる多様性とはまた別次元のストレートなアプローチで小林愛香の魅力を表現している。意志が強く芯がある歌詞は、この時勢とシンクロしながら揺るがない思いを聴く人に届ける。表題曲「Tough Heart」の他、新曲2曲とそれぞれのインストを含む計6曲収録。
---
M-01
- TV Anime "Shin Chuuka Ichiban! 2nd Season" Opening Theme
Composer: Q-MHz
Arranger: Q-MHz (Tomokazu Tashiro)
Lyricist: Q-MHz
---
【DOWNLOAD】
---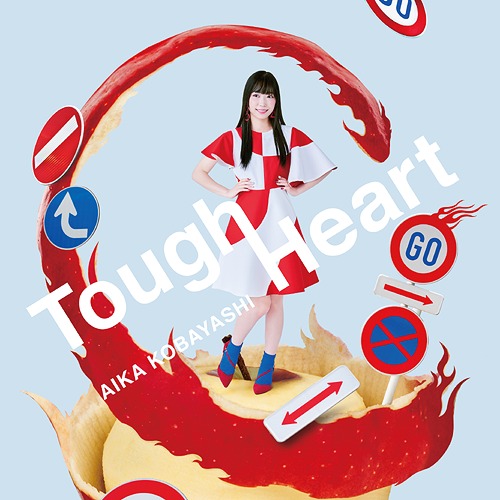 04 Tough Heart (instrumental)
05 Sunset Bicycle (instrumental)
06 Lorem Ipsum (instrumental)
---
➥Source