KISSIN' MY LIPS / Stories [CD+DVD/初回盤A] / Snow Man
KISSIN' MY LIPS / Stories [CD+DVD/Limited Edition A] / Snow Man
Title: Snow Man - Kissin' My Lips / Stories [Limited Edition / Type A]
Album: Kissin' My Lips / Stories
Catalog Number: AVCD-94848
Barcode: 4988064948482
Release Date: October 07, 2020
Publish Format: Commercial
Release Price: 1760 JPY
Media Format: CD + DVD
Classification: Vocal
Organizations:
Composed by:
Arranged by:
Performed by: Snow Man
Lyrics by:
Description
Snow Man brings the second single. "Stories" is used as an intro theme song of anime series, "Black Clover." This edition comes with a bonus DVD featuring music videos for title songs, dance version of the video for "Stories," cover & MV making-of.
Notes
M-2
:
TV Anime "Black Clover" Ending 11
---
【DOWNLOAD】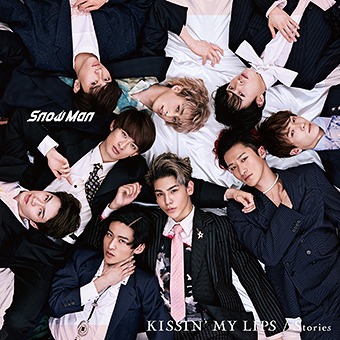 Tracklist
DISC 1
1 KISSIN' MY LIPS
2 Stories
DISC 2
1 [DVD] KISSIN' MY LIPS (Music Video)
2 [DVD] Stories (Music Video)
3 [DVD] Stories (Dance Video)
4 [DVD] ジャケット/Music Videoメイキング映像
---
➥
Source
❰Artist❱